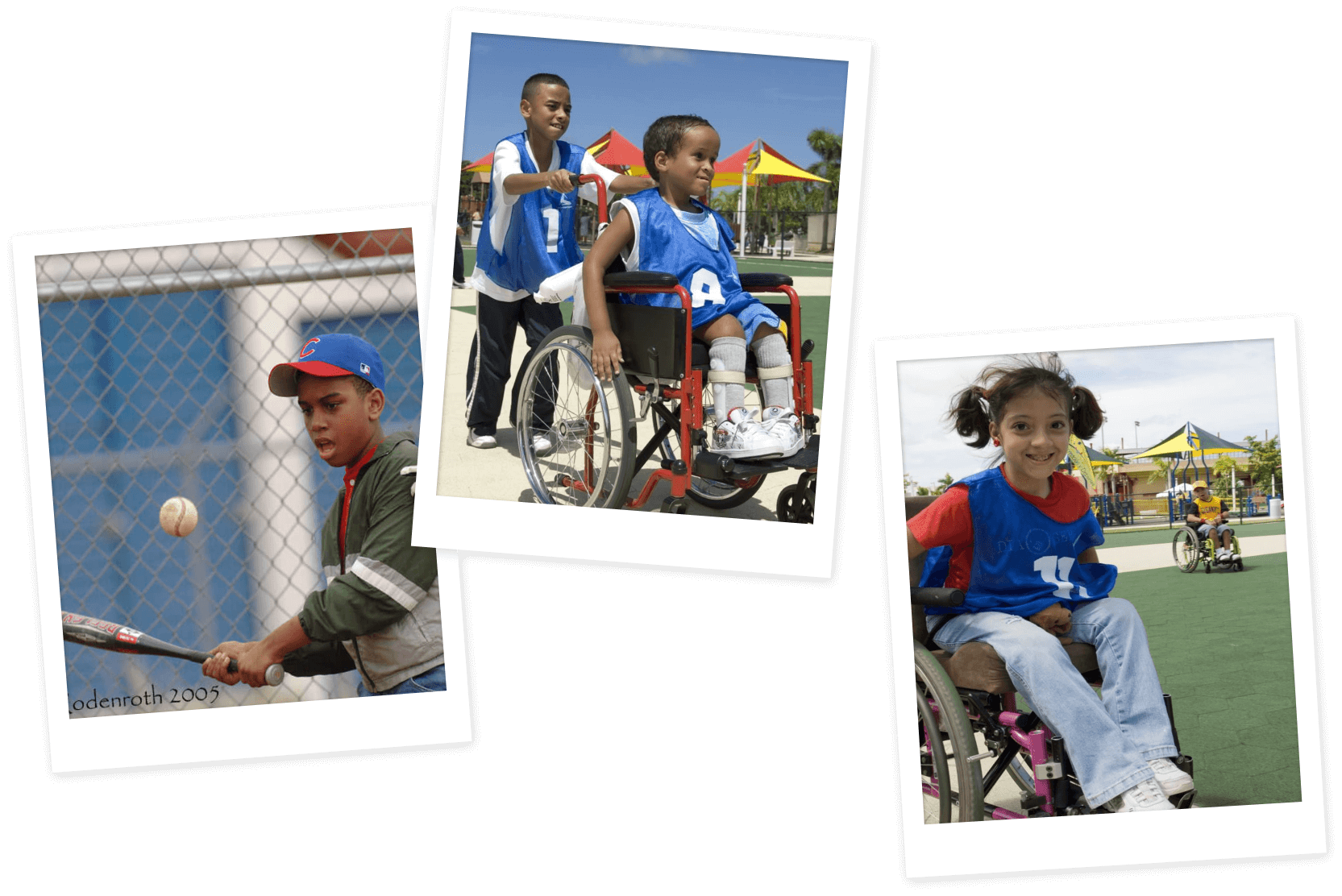 What is a Miracle League field?
A Miracle League field is a custom-designed field with a cushioned, rubberized turf to help prevent injuries, wheelchair-accessible dugouts and a completely flat, barrier-free surface to provide accessibility for visually impaired players, players in wheelchairs or with other assistive equipment.  The field is completely fenced in providing another level of safety.
A Miracle League field provides opportunities for individuals with physical and cognitive challenges to participate in recreational activities in an accessible, nurturing, and non-competitive environment where families can come together to cultivate new friendships and experience the joy of play.
What is the Miracle Field of Horsham, PA?
The organization's mission is to provide a safe and inclusive environment where those with disabilities will find comfort, friendship, and a sense of belonging through athletics and competition.  Our project is being run completely by volunteers who are trying to make a difference in our community.  When complete, we expect this new facility to be among the finest Miracle Field sports complexes in the country. We would love to have you join us on this exciting journey.
Are there other Miracle League fields?
Yes, there are 270 nationwide.  The Miracle League is a national organization that provides guidance and program support for starting a Miracle league and constructing fields in local communities. The first Miracle League field was built in Conyers, Georgia in 2000.
Is this project registered as a 501c3 non-profit organization?
Where will the field be built?
Deep Meadow Park – 1020 Horsham Road, Horsham, PA 19002
What will the cost be?
Our estimate is $3 million for site work and field construction. These costs are in-line with other Miracle League fields.
Who is paying for the field?
Funding will come from a variety of sources including but not limited to grants and private donations.
Will taxes in Horsham go up to fund this project?
Miracle Field of Horsham, PA. is being funded by private donations, private and public grants, and the sheer determination of our incredible team of volunteers. There will be no funding by Horsham Township related to the construction of the Miracle Field. Horsham Township has generously donated the land and engineering services which are included in the Township's General Budget.  The 2022 Township Budget does not include a tax increase.  The Deep Meadow Park improvements that include the parking lot improvements being provided by Horsham Township are included in the township's capital budget. There will be no tax increase to Horsham Township as part of our project.
Will the surface need to be replaced in future, and will the town have to pay?
Yes, the surface will need to be replaced in about 10-12 years.  The organization will raise and continue to fundraise not just for original construction but for future replacement costs.
When is the project expected to be completed?
We estimate it will take 1-2 years to raise the capital to begin construction. 
Construction should take about 4-6 months when our phase one funding goals are reached.
How will funding be raised?
The project will coordinate multiple fundraising initiatives, including things like a 5k, baseball tournament, Gala, and online donations to name a few.
We are also looking for corporate donations and submitting applications for grants.
Is the field only for children with disabilities?
No, the field will be for everyone.  While the field will be used for the Challenger division there are several other uses.  We hope to start a veteran's league that will be able to use the field.  Also able-bodied players who are just learning the game will have a chance to practice and play on the field.  This is a community field and as such we want to be sure that many populations in the community will benefit from it.
Have we raised money already?
Yes. To date we have raised over $1.5 million.   We will continue to have annual fundraising events to support the field build and maintenance.  
How is the project being managed?
The project was launched by Bill Slaymaker and Nancy Kirby. It is now being governed by a Board of Directors to manage fundraising, finance, communications, etc.  Committees support the initiatives and events.   We welcome and encourage community members to share their talents and join our team.
How can I help?
There are multiple ways you can assist, here are a few options. 
Where can I get more information?
How can I keep updated on progress?
Website, Facebook, LinkedIn and ongoing communications